It's Spring (finally!) and we're on our way to Sturry to meet Kylie, the founder of the Eccentric Leopard Furniture, chatting over our flat whites and navigating the heavy Canterbury traffic. Kylie transforms second hand furniture into bold statement pieces using ornate prints and plenty of gold gilding, so we're excited to visit her at her new home workshop and have a look around her creative space.
Winding our way down a little lane that's just off the main road, we pull to a stop in front of the prettiest green with an old church. It's almost as if, if you don't turn around, you're in the middle of a rural village and you can forget that the cars are humming along behind you. Stepping inside Kylie's home and being greeted by the warmth of this bright, brilliant character makes the morning slip away until we leave at lunchtime and the sun is steadily shining and we have two big smiles on our faces.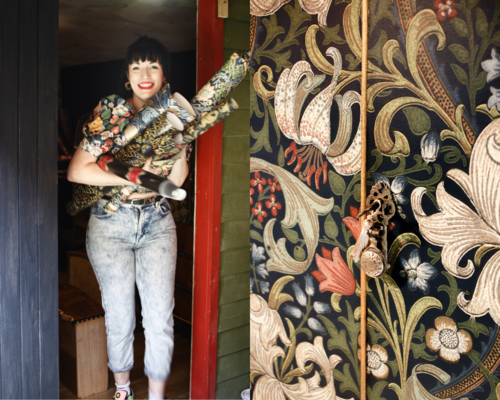 Kylie and Kent
Kylie is instantly recognisable 'Ah I'm just one of those Canterbury faces' she says, and we know exactly what she means. 'If you've lived here long enough, you get a good sense of who's who and, believe me, I've lived here long enough'. She tells us about her grandparents house in Harbledown and how it is one her greatest inspirations. Her Nanna has spent her life collecting beautiful little ornaments from charity shops, so Kylie would lose herself here, wishing that one day she'd own a home that she could fill just the same.
'I LOVE old castles. They're so ornate and ostentatious, and everything is dripping in gold. I was born in the wrong era. I should have been Marie Antoinette.' she says, as we look around her truly eccentric home.
Kylie, before Eccentric Leopard
We ask Kylie about what she did before she started the company. 'I was a teacher for a long time and eventually I just fell out of love with it. I was reading Reclaim magazine one day and saw someone using decoupage to modernise furniture and I realised that I could do that, only I could do it in my own way, so I quit my job after lockdown and haven't looked back. I LOVE what I do.'
Kylie has been running the business from home ever since and you can see the influence that having been a teacher has had upon her: she's articulate, captivating and very knowledgeable indeed. We shoot two videos that she nails in one enthusiastic take.
Kylie and the Eccentric Leopard
Kylie invites us into the new workshop that her husband built for her, overlooked by tall trees in the backyard. It's quite a scene with these trees overhead, and you can just imagine how the seasons quite visibly change and act as the backdrop and inspiration to her work. She confesses that she loves William Morris prints with all those birds and all that flora and fauna, and you can see that the workshop is in just the right setting.
She excitedly shows her pots of paint and rolls of wallpaper 'I've got William Morris Strawberry Thief, I've got gorgeous Versace, I've got it all!' She says, with a wave of her hands. '
'I don't throw anything away. I keep all my offcuts and develop products with them – lampshades, coasters, you name it. Did you know that FIFTY THOUSAND pieces of furniture go in landfill each year? And that's just in the UK!'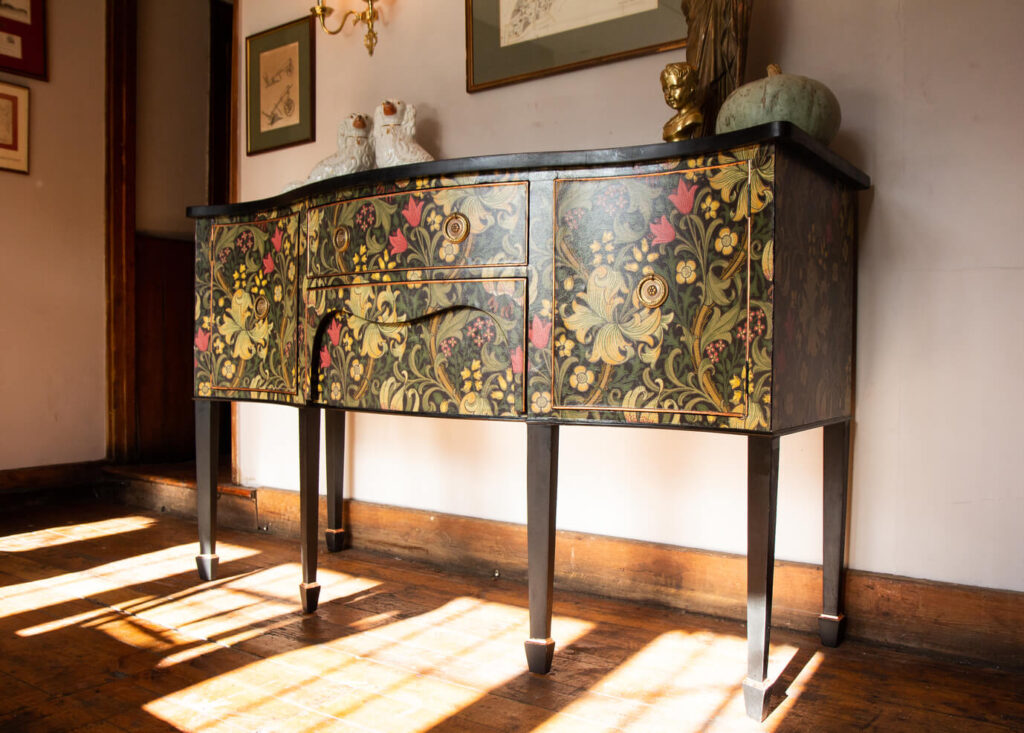 As much as possible, Kylie uses environmentally friendly paints and varnishes. We can see quite a few pieces hiding in the corner and she jokes with us that she just can't say no to things 'you just don't get the same detail on modern furniture' she says, as she sweeps her varnish roller along a wooden draw to show us the wood grain 'this stuff is magic'.
Kylie styles her furniture pieces to fit in in outlandish country houses or as statement pieces for modern homes, using really decorative and bright colours and gilded the details in gold and bronze. Doing everything by hand and by herself, she can only have two items on the go at any one time. It takes around 6 days for each piece, so you're looking at about two or three pieces a week max. 'And it's not until you put the handles on that it really comes to life!' Buying a piece from Kylie really means one-of-a-kind.
Kylie's Uncommon Goods
'My favourite things? Ooh this is hard..my house is full of random little things that I love but I think it would be my collection of amber jewellery. My Nanna has always worn it and I was always obsessed with all the amazing colours and shapes (like little glacier sweets) but each piece is unique. Every item I own was gifted to me on special occasions at different stages of my life so when I wear it it reminds me of people and times which mean a lot to me.'
Kylie's Platform Curation
'The first time I visited, I was instantly drawn to the Dark Horse Ornament Rock Necklaces. I love statement jewellery and these do not disappoint. The chunky gold chains are an additional lush bonus.
Secondly, all of the vibrant artwork scattered on the walls by local artists is a must see! Particularly enjoy Lesley Davies-Evans 'Cantercity.' I love the incorporation of local urban landmarks that I have walked past many a-time growing up. Anything that is nostalgic for me is a winner!
And thirdly, I am a huge fan of the knitwear from 'Handmade in Bridge.' Just stunning craftsmanship, incorporating historic patterns and imagery with a vibrant colour palette!'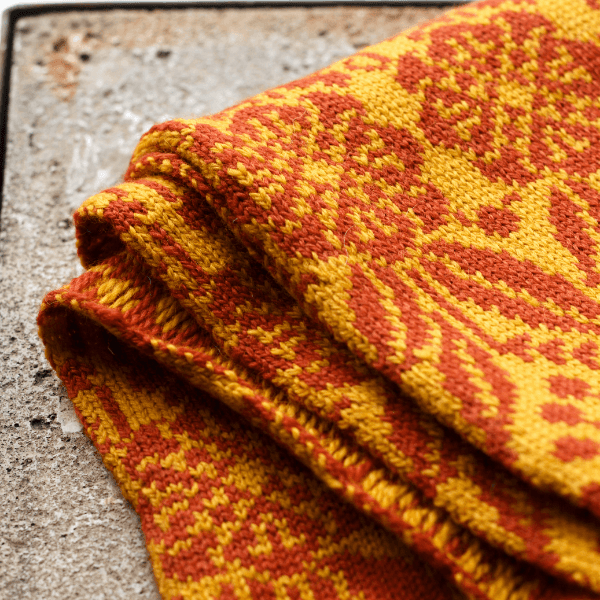 Kylie joins us for a two week residency at the end of April running into March, showcasing some of her latest pieces. She will be at the shop as much as possible and, weather depending, working LIVE from the yard. Kylie will also be hosting a decoupage workshops in May (book here, tickets are limited) where you can make your own rustic wooden coaster set, with access to her bright and bold paper stash. 
Words and images by Sally Gurteen, for Platform