We meet Kim Barnicott of Tumbleweed & Honesty in her home studio, where foliage and nature's beauty is evident throughout her workspace – from hedgerow finds to flower heads from her garden, every sprig and bloom is preserved for future use as year-round colour and texture in her creations.
Growing up on the rugged, heather-filled hills of Wales meant that her love for plants, the great outdoors and an affinity with nature were instilled from an early age and these clearly influence her passion for both floristry and foraging today.
Initially studying Textiles and then going on to teach the subject in further education, she naturally segued into floristry, spending many years working alongside esteemed floral designers in London and beyond.
Now a long-term resident of Kent, she works from her Faversham studio creating bespoke floral arrangements to commission for all occasions, teaching regular workshops and also pursuing a new
passion; utilising floristry as a form of therapy in the mental health sector.
We've been lucky enough to collaborate with Kim for a day of botanical-based creativity here at Platform and will present two exclusive workshops on Saturday 26th November.
During each 2-hour session, participants will use a handmade willow base to design and build their own everlasting 18" floral wreath using seasonal dried blooms, foliage and foraged elements. Kim's extensive knowledge will guide you through the process and inform choices in texture, shape, colour and form as you develop an understanding of natural structure and the characteristics of each element. The masterclass will combine in a finished piece with a bold, natural and beautiful aesthetic to be truly proud of – ideal as a perennial decorative piece for your home or even to gift to a loved one this festive season. You can book your tickets here but we advise booking soon as spaces are limited.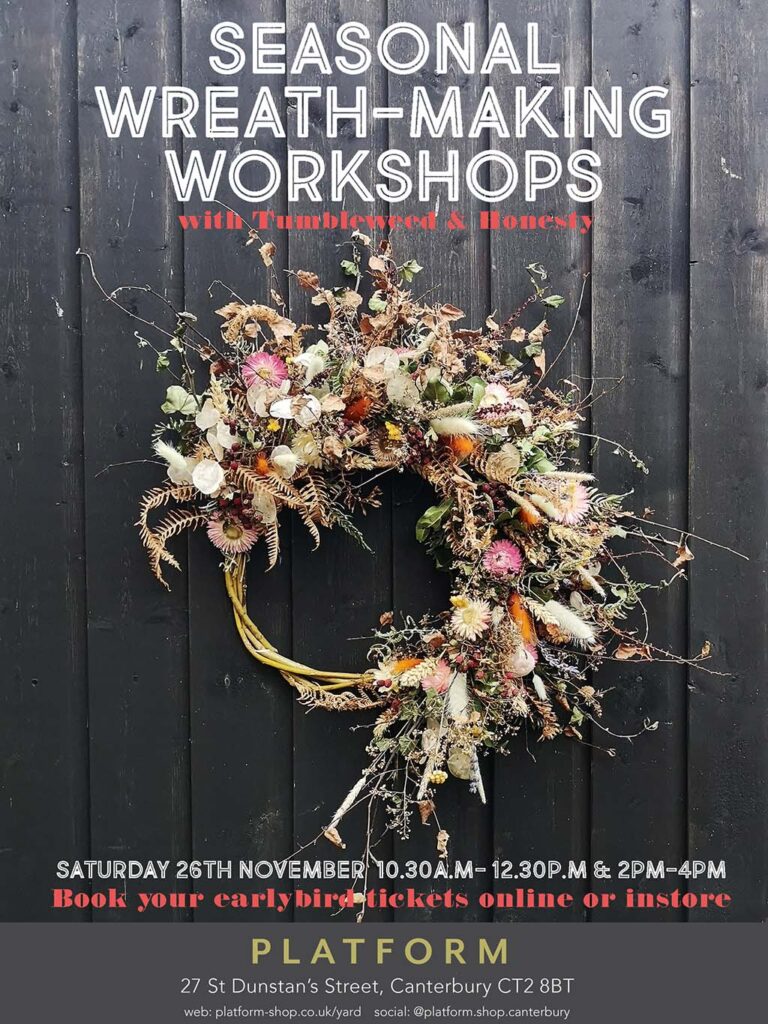 Coinciding with the workshops and continuing our festive theme, we will be hosting our Winter edition of Bazaar in our back yard. Join us from 11 am for mulled wine, music and browse incredible handmade goods and gifts from local brands including Houndog, Salt, Seed & Stone, Siobhan Timoney Design, Suede & Co, Terrapy, Stacey Jane Jewellery, Teclate Soap and Ethical Workshop Chocolate.