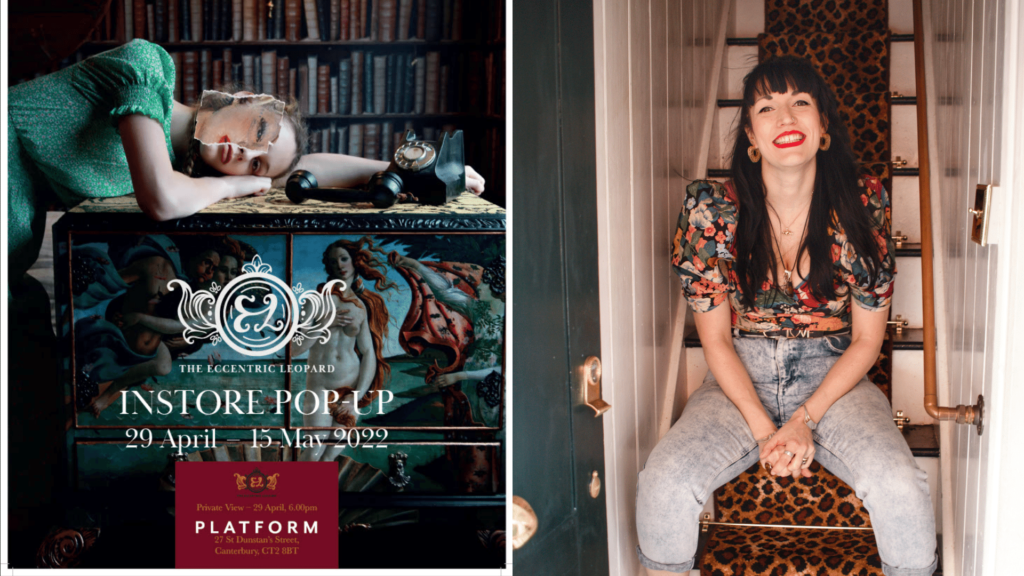 For our inaugural instore pop-up, we're thrilled to welcome Kylie Hodge and her exquisite work as the Eccentric Leopard. Established in 2021, Kylie creates bespoke, professionally transformed vintage and antique furniture to make a bold statement within your home. Priding herself on sourcing the finest of prints, patterns and images combined with great attention to detail and a superb finish, each piece of furniture comes to life in her Kentish workshop and is a truly unique and stand-out product. She is also extending her decorative range in collaboration with local artists and will soon be adorning her furniture with their exclusive designs for ever more distinctive works.
For the duration of Kylie's residency, she will be available for demos and upcycling advice by appointment (contact shop@platform-shop.co.uk) and she will be in the yard as much as possible working LIVE. She will also be running two decoupage coaster workshops on Saturday 1st of May from 2 – 4pm and another on Saturday 14th from 2 – 4pm. Tickets can be booked here.
Kylie is passionate about working with existing antique pieces, not only to save them from landfill but also to create a new chapter in their life as part of a contemporary home. Utilising traditional skills and an exceptional quality of workmanship, her work incorporates decoupage, gilding and different paint techniques ensuring that every item has its own luxurious finish.
In today's 'fast-fashion' culture, she believes that having something beautifully made and entirely original is a rare and really quite special thing.
Hailing from Canterbury, Kylie studied at UCA and has a degree in Textiles from Nottingham Trent University and now lives nearby with her family. Growing up surrounded by the wealth of local buildings and estates which are steeped in history and rich in beauty, she spent her childhood visiting castles and stately homes and fell in love with the vibrancy and intricacy of their interiors and furnishings. It is these decorative carvings, mind-blowing paintings, prints, colour palettes and ornamentation that inspire her work today. Combined with a passion for vintage furniture she soon became obsessed with the quality and craftsmanship of a bygone era where each piece was built to last, with its own wonderful story to tell. Giving these pieces a new lease of life began to bring her such joy in her own home that she soon realised that it was too good a thing to keep to herself, and The Eccentric Leopard was born.
Ensuring that nothing goes to waste, all studio offcuts are used in transforming smaller decorative items and accessories for the home and we will be offering expert decoupage workshops with Kylie here at Platform, throughout The Eccentric Leopard residency. As seen in Vogue, Wealden Times, Cene and Restore Magazine.